soupy
· edited
Official thebe kgositsile appreciation thread!
https://www.earlsweatshirt.com
US / EU TOUR Dates
Jan 29th - Jun 11th
---
News:"SICK!"NEW ALBUM ; January 14th, 2022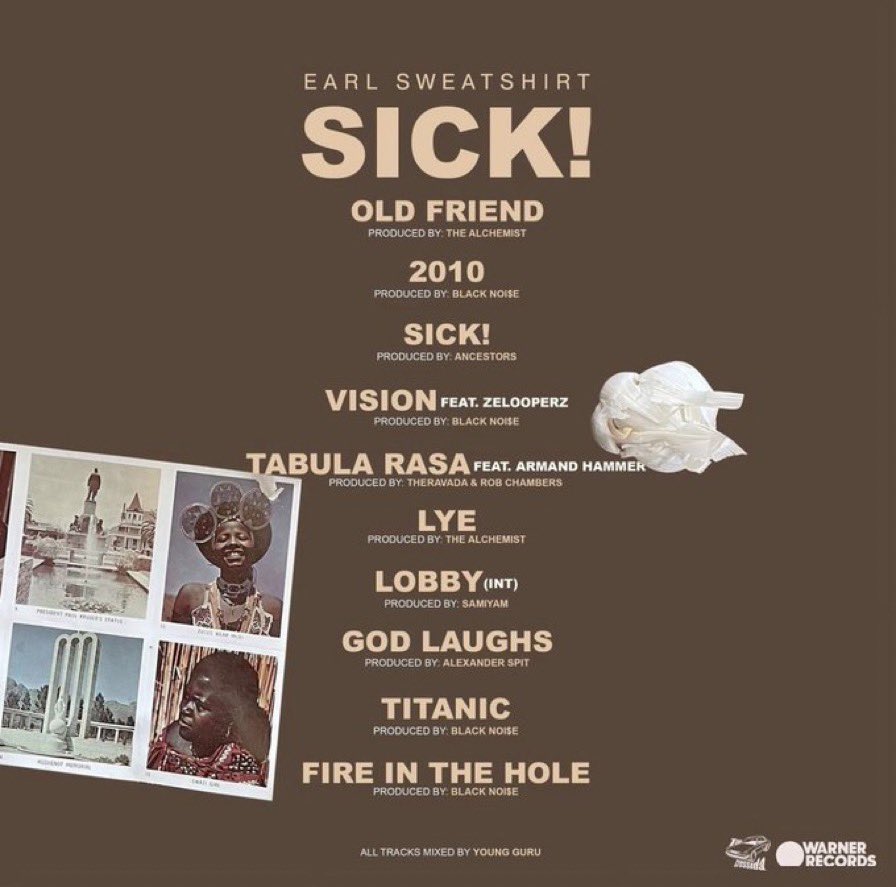 OUT NOW
---
Interview
MixMag | FREE THEBE: EARL SWEATSHIRT IS COMING INTO HIS OWN
"To contextualise my pain in the past three years of my life," he says wearily, "my father died in January 2018 and I grieved for a year. Alcohol f***ing crushed me that year. Then 'Some Rap Songs' came out in November 2018. I toured for like nine months. I was still trying to celebrate the grief away and then close friend and collaborator Mac Miller died. I didn't even have space to process that s***. I just had to compartmentalise that s***. It was just too much."
Initially, the Los Angeles-based rapper was going to release a different project titled 'The People Could Fly', named after Virginia Hamilton's Black American Folktale about a group of slaves who use magic to set themselves free. But then the COVID-19 pandemic hit, "people couldn't fly anymore … People were sick". Only two songs from those earlier sessions - 'Old Friend' and 'Tabula Rasa' - made it onto this album, after "supremely bad decision making" caused the computer containing the work to be lost.
---
LEAD SINGLES:
!https://youtu.be/S0yn-5Asyxs
"Titanic"
!https://youtu.be/JUKh7Cj_3Fo
"2010"
!https://www.youtube.com/watch?v=xKQIZREDmf4
"Tabula Rasa" (ft. Armand Hammer)
---
Earl posted co-ordinates to a new billboard with some artwork
---
Discography:
(Deluxe, 2020)
!https://www.youtube.com/watch?v=uxdY_6JTIO4
https://wr.lnk.to/feetofclay
---
!https://youtu.be/R4caTCHR4xo!https://youtu.be/UCceUo94X1g
https://somerapsongs.com/
---
!https://www.youtube.com/watch?v=d3q_0UP6sck
---
I Don't Like S***, I Don't Go Outside — 2015
!https://www.youtube.com/watch?v=tZ5Mu2gs-M8!https://www.youtube.com/watch?v=wrxxfrzJY6k
---
!https://www.youtube.com/watch?v=FCbWLSZrZfw
---
!https://www.youtube.com/watch?v=78_loMbmKJ8
---
Socials:
Facebook
Instagram
Twitter
Website