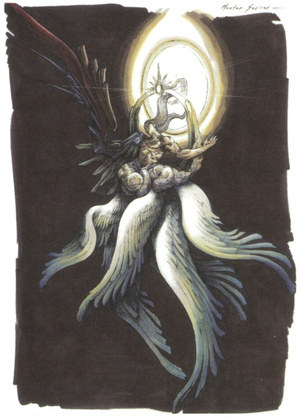 DNAA
F*** me nearly cried to this new trailer.
Subtitles ain't all there, but they've nailed it on so perfectly with what this game means to everyone
https://youtu.be/H-2JXYDfXCQ
That's pretty awesome
I found a synopsis of it off reddit since a lot of the subtitles are missing
Translation summary from Dualshockers.com:
The main character, which we'll call MC for convenience, finds the CD 3 of Final Fantasy VII in his flat. His lover Kana, played by Misato Morita, felt nostalgic about the game and brought out the CDs. They don't own a PS1 though. Later at work, MC chats about how he never played FFVII. His superiors start going on and on about how special FFVII is to those of their generation. How they remember meticulous stuff like the method to get the Knights of the Round Summon Materia. And how they are curious about what'll happen with the remake.
Back at home, MC is watching the latest FFVII Remake trailer and asks Kana about it. This triggers a flashback about how Kana would watch her brother play all the time. However, the last time Kana talked with her older brother was over 8 years ago when their father passed away. Kana mentions MC acting so uninterested is just like Cloud.
The next day, MC gets more and more interested in FFVII but won't admit it. Meanwhile, Kana starts thinking she should get in touch with her brother.
MC and Kana meet at a bar and encounter an FFVII otaku there, played by Tetsuji Tamayama. Otaku guy starts explaining how everyone was into the game back then, whipping out the FFVII official strategy guide. The otaku guy is shocked to learn MC never played FFVII. He starts rambling about how youngsters who grew up with the internet don't know anything. He asks Kana what scene left her with an impression, and she says stuff like Cloud cross-dressing or stuff about Aerith. Otaku guy cuts her off, as she shouldn't say more. He basically mentions how Final Fantasy VII will always exist and never change, but a new era of Final Fantasy VII will start in 2020.
We then get a bunch of flashbacks showing various japanese kids playing Final Fantasy VII. The otaku guy is narrating. He makes a huge deal out of Final Fantasy VII and how it revolutionized gaming. And how a similar revolution will again happen in 2020. Needless to say, this film is a commercial for FFVII Remake, so he didn't mention that FFVII is a masterpiece but that FFVI is better.
As the flashback ends, MC admits he's jealous he didn't get to experience FFVII back then, seeing how happy everyone seems when remembering it. Otaku guy retorts that people like him who played the original are also jealous of those like MC who will discover everything with FFVII Remake. Otaku guy says they should meet again after he plays the game, and leaves the bar, all while acting as if he's riding a Chocobo.
The next morning, MC and Kana promise each other they'll get a PS4 and play Final Fantasy VII Remake together. But only when it releases, as MC didn't realize the game wasn't out yet. Kana's brother sends her a message asking how's she's doing and if she saw the remake. They end up calling each other. We see the various characters, all wondering how Final Fantasy VII Remake will turn out. Happy end.