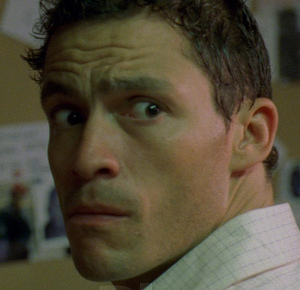 Bad Finger Boogie
I guess there's really so little that's actually said in these final scenes that we really just bring our own ideas and baggage to it.
I often subscribe to the idea that you've gotta show things going right before you can effectively show things going wrong. I remember people saying after episode 11 that Nippy was unnecessary, because episode 11 showed him pulling schemes (the ones that "matter") with Jeff anyway. To me, though, we needed to see Gene 'win' with something closer to a 'harmless' crime in order to really add weight to the darker scheme he started to pull in ep 11, which ultimately fails and becomes his undoing.
What I'm getting at is that, for me at least, the scene with Jimmy and Kim smoking in the interrogation room holds positive connotations, and cutting to black on that would have felt like, in some cosmic way - not necessarily literally, for logistical reasons - they were back in each others' lives.
The last scene then brings you back to earth, and feels more like a parting note not just for the characters, but for the show as well. Plus we get that gorgeous shot of the two of them separated by the fences, which directly evokes the shot of them in Fun and Games in the parking garage (as well as the shot with Mike and Nacho's dad) - their previous goodbye.
I do get where you're coming from now I've had a day to think about it all. Moved from they 100% should have ended it on the prior shot to now feeling conflicted.
Totally agree about what you said on everyone just brings their own ideas and baggage into interpreting things like this.
I never quite saw it so bleakly that they're gonna be out of each others lives. To me it felt like this was an acknowledgement from Kim that Jimmy had done the right thing and she was proud of him and ultimately always will have immense love for him. I didn't see it as a 'you're in here now and I'm out there so this is a final farewell'. Can see them maintaining a great friendship.
But I do get what you mean about it perhaps feeling too much of a positive connotation to end on them sharing the same space. Perhaps that final, bitter reminder was needed.
Ultimately i'm probably just a little mad cause, as beautiful as the last shot was, I loved seeing them leaning against that grimy prison wall with the light faintly streaming in. Just felt perfect to fade to black.
And good pick up on the Mike and Nacho's dad comparison. Had slipped my mind.