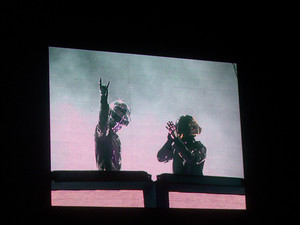 spago
· edited
May 19 Update: Joe stopped sharing posts and has wiped the page without giving reason, leaving it to probably one or two.
Either a legal team wasn't happy sharing loads of IP online for free, or he was fed up with people stealing and selling his designs on clothing.
I tend to believe it was the latter because we already had massive drama with users here and reddit making their own merch with his stuff and selling it for their own profit.
Unfortunately the page has been entirely wiped, there is nothing left. We can only repost what people have saved. And if any of you have anything, PM me we can start work on an imgur gallery to preserve what was shared. Thanks to those who checked in on this thread, and thanks to the cool ass mods for stickying.
It was a good run! I'll leave op as it is with dead links to keep track of what was posted given we have titles and most were posted day of, so we know what is what.
ONLY POSTING KANYE WEST RELATED POSTS
JOE PEREZ HAS STATED REPRODUCING ANY MERCHANDISE HE POSTS IS ILLEGAL
POSTS ASKING TO BUY OR POSTS TRYING TO SELL WILL BE DEALT WITH
posts starting jan 24 will be posted at the top to bottom
posts starting JAN30 will be added to the thread since op doesnt allow over 15 embeds
Instagram page ran by Ex-Donda creative Joe Perez
https://instagram.com/opt_archive?igshid=dleu299gc73
TURBOGRAFX16 did not have any art created
Nothing was created for Cruel Winter in terms of artwork, only research
So far:
SWISH COVERS
https://www.instagram.com/p/B79Vj2bB3WC/?igshid=15ftmql835h5r
SO HELP ME GOD/SWISH/WAVES MERCH MASHUP
https://www.instagram.com/p/B79U3G0jWAE/?igshid=dkhb2en3yt3o
YEEZUS 2 PACKAGE CONCEPTS
https://www.instagram.com/p/B76pUsPh6e_/?igshid=1g17ulqams0l7
RIP KOBE BRYANT (FEEL LIKE KOBE MERCH)
https://www.instagram.com/p/B7zBmYPBVrE/?igshid=nymf8xivlr7s
CRUEL SUMMER CD PACKAGE
https://www.instagram.com/p/B7y_BvahKET/?igshid=1eglqzm99soiw
ABU DHABI CREATIVE CONCEPTS
https://www.instagram.com/p/B7wMp9Ah0tt/?igshid=12z6f7ymhwvwy
YEEZUS TEE CONCEPT
https://www.instagram.com/p/B7wrWvVBYKf/?igshid=1oaytwrvxdbfq
SHMG ALL DAY CREWNECKS
https://www.instagram.com/p/B7tnlaMhGPE/?igshid=5y1mimkh69r0
THANK GOD FOR D***S - title/cover art
https://www.instagram.com/p/B63IS60Bbi9/?utm_source=ig_web_copy_link
TILL DEATH DO US PART TOUR - Original YEEZUS tour
https://www.instagram.com/p/B6w843ghnXE/?utm_source=ig_web_copy_link
DARK FANTASY 1800 TEQUILA COLLAB
https://www.instagram.com/p/B603TUthQBI/?utm_source=ig_web_copy_link
GOOD MUSIC T SHIRT CONCEPTS
https://www.instagram.com/p/B68amWWBEky/?utm_source=ig_web_copy_link
ALL DAY/WOLVES DUAL SINGLE PACKAGE
https://www.instagram.com/p/B6_F69bBT8l/?utm_source=ig_web_copy_link
2011 KANYE COACHELLA BACKSTAGE PASSES
https://www.instagram.com/p/B7BjUUThXFK/?utm_source=ig_web_copy_link
TLOP NYC POP UP SHOP BAGS
https://www.instagram.com/p/B7EBketBh0Q/?utm_source=ig_web_copy_link
WAVES GIF COVER ART
https://www.instagram.com/p/B7Q9kSABUe0/?utm_source=ig_web_copy_link
YEEZUS TOUR CREWNECKS
https://www.instagram.com/p/B7G9nBrBCT1/?utm_source=ig_web_copy_link
DONDA VISION & SOUND CONCEPTS
https://www.instagram.com/p/B7L6KONhZzJ/?utm_source=ig_web_copy_link
SWISH/WAVES DENIM JACKETS
https://www.instagram.com/p/B7RpbCfhRZn/?igshid=ed3sfvsaf02j
RUNAWAY FILM POSTER CONCEPTS
https://www.instagram.com/p/B7WSLtRB62w/?igshid=mbiip1ayglwt
SWISH ANIMATED COVER
https://www.instagram.com/p/B7ZDcguh_wI/?igshid=9tffzuoglmw2
KW NAME LOGO
https://www.instagram.com/p/B7bof69harZ/?igshid=1ksqr4nuhnhiw
SUMMER ENDS CONCEPT POSTER
https://www.instagram.com/p/B7gskW9BoRV/?igshid=iknv1kx0fngn
SO HELP ME GOD MERCH CONCEPT
https://www.instagram.com/p/B7jRWTPhz9P/?igshid=84mebjym9s1z
YEEZUS TEE CONCEPTS
https://www.instagram.com/p/B7ofLHlhDE0/?igshid=nhutv7xuzqog
SO HELP ME GOD 2016 COVER
https://www.instagram.com/p/B7pXx5Dhbn4/?igshid=9y7kjarcyb8g
ANOTHER
https://www.instagram.com/p/B7pZxzahglj/?igshid=14xzwwdpcqs5fhttps://twitter.com/david_rudnick/status/1220185581059289088https://twitter.com/david_rudnick/status/1220185855454797826
GOOD MUSIC LOGOS
https://www.instagram.com/p/B7rD5mWBspF/?igshid=yi07p08m63zb
BRING DONDA BACK ITS SOME CLUES OF A COMEBACK GOOD MUSIC.... back since Ye owns all his music but I heard a rumor that EMI re-opened the lawsuit