The series follows the adventures of the protagonist, Son Goku, from his childhood through adulthood as he trains in martial arts and explores the world in search of the seven orbs known as the Dragon Balls, which summon a wish-granting dragon when gathered. Along his journey, Goku makes several friends and battles a wide variety of villains, many of whom also seek the Dragon Balls.
Original Manga run December 3, 1984 – June 5, 1995
Dragon Ball(1986):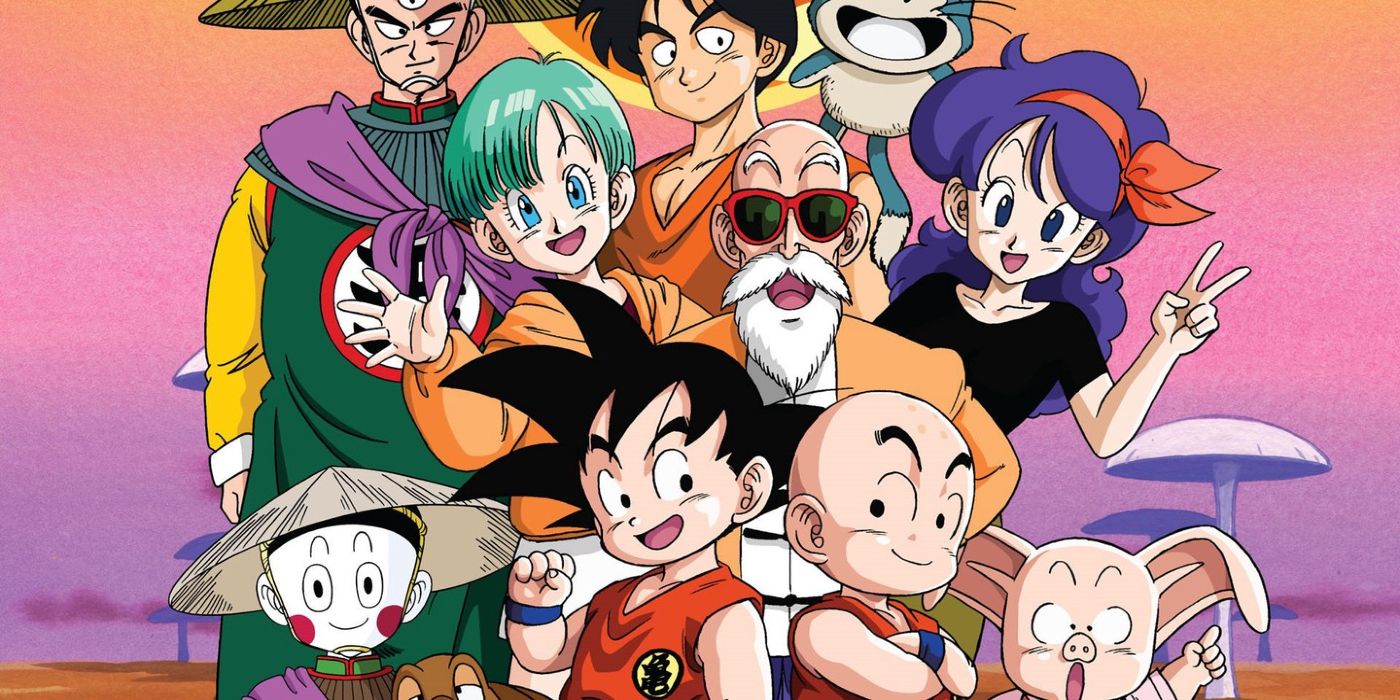 Dragon Ball Z(1989):

Dragon Ball GT(1996):

Dragon Ball Super(2015):

Dragon Ball Super manga is still on going. Currently(As of November 20th, 2020) There are 66 chapters. Each chapter is released monthly. Current arc is the Galactic Patrol Arc. Goku and Vegeta are up against an ancient wizard named Moro. Moro has the power to devour planets, which strengthen himself.
Extra Dragon Ball Content:
Super Dragon Ball Heroes is a promotional anime series that showcase short what-if episodes of a current heroes arc. Episodes are released monthly to bi-monthly.
Movies:
(Original Anime Era)
Dragon Ball: Curse of the Blood Rubies(1986)
Dragon Ball: Sleeping Princess in Devil's Castle(1987)
Dragon Ball: Mystical Adventure(1988)
Dragon Ball: The Path to Power(1996)
(Z Era)
Dragon Ball Z: Dead Zone(1989)
Dragon Ball Z: The World's Strongest(1990)
Dragon Ball Z: The Tree of Might(1990)
Dragon Ball Z: Lord Slug(1991)
Dragon Ball Z: Cooler's Revenge(1991)
Dragon Ball Z: The Return of Cooler(1992)
Dragon Ball Z: Super Android 13!(1992)
Dragon Ball Z: Broly – The Legendary Super Saiyan(1993)
Dragon Ball Z: Bojack Unbound(1993)
Dragon Ball Z: Broly – Second Coming(1994)
Dragon Ball Z: Bio-Broly(1994)
Dragon Ball Z: Fusion Reborn(1995)
Dragon Ball Z: Wrath of the Dragon(1995)
(Super Era)
Dragon Ball Z: Battle of Gods(2013)
Dragon Ball Z: Resurrection 'F'(2015)
Dragon Ball Super: Broly(2018)