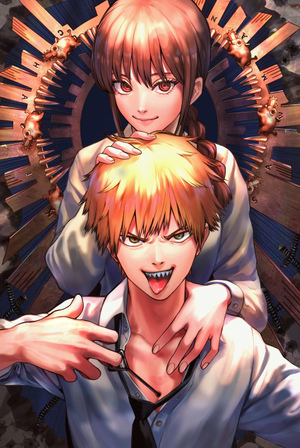 Read Chainsaw Man
Honestly though while I do like the game from a story and character perspective the game has so many flaws I gotta b**** about after playing it for a week straight
Like @DMWR mentioned the other day the map design in some parts like Gronder field is really s*** and promote cheesiness rather than any actual strategy. Couple that with how blatantly unbalanced 75% of the game is some fights are just straight up unenjoyable
Lythisea is one of my favorite units to use but since her trade off of being broken in terms of strength is that she can't take hits, some maps just straight up disqualify using her imo. And I don't feel that its promotes strategy whatsoever, it just encourages you to plow through s*** with Byleth, the House Leaders, or Felix (in my case) because they're blatantly broken.
The Calendar system is also incredibly annoying and never gives me time to breathe
It makes you rush through s*** instead of taking your time with side quests and s***. Sometimes I wanna just sit back and do some Paralogues but you can only do 2 per week, and that's not even mentioning the side quests from the Monastery, auxiliary battles, and so on. This isn't even mentioning exploring the Monastery for various things, Seminars, and resting.
Important information about Jeritza and Jeralt should not have been locked behind Supports. ESPECIALLY Jeralt's because the stuff about him being alive for over a hundred f***ing years directly pertains to the plot and if anything a catalyst for some of the most important events of the game.
Speaking of Jeralt they could've chilled out on giving out his death flags every 5 minutes
I get he's an FE dad so he was gonna die regardless but they were basically screaming it at you
This is also ignoring obvious s*** like how ass the graphics, models, NG+, and DLC are. And that Umbra Steel is just unnecessarily rare. There's a lot of good things the game does like character work and story, I like the idea of no "Golden Route", plus at the end of the day I DO find the gameplay fun but honestly it was released way too soon imo.
yeah i agree with a lot of this. reusing maps, 2 of the routes are basically the same thing (i think a proper church route with rhea woulda been good for a true ending since byleth is basically rheas son), gender locking classes was really dumb too, and almost all of the maps are reused
i also dont know how to feel for supports. i think having 3 pre time skip and then a last one where they basically confirm that they wanna get married was kinda abrupt considering it was a 5 year timeskip. also the timeskip i feel like they just threw in, there are only a few characters who show their growth in that time. 5 years is long as f*** too tbh
thats why im hoping with a season pass 2 or even just a final update they can really change some of the aspects of it. the game really couldve used a delay to fix a lot of these things.
with all that said though i think as long as the next game builds on this, i think itll be really good. as if awakening and TH werent so critically acclaimed already, i think the sequel can be really good. hopefully itll come in like 2 years since nintendo has to recognize that FE is a big deal by now